THE CARBON OFFSET PLATFORM IS AN ECOSYSTEM
for ship operators, charterers and cargo-owners to compensate residual emissions easily, effectively and ethically
CARBON OFFSET PLATFORM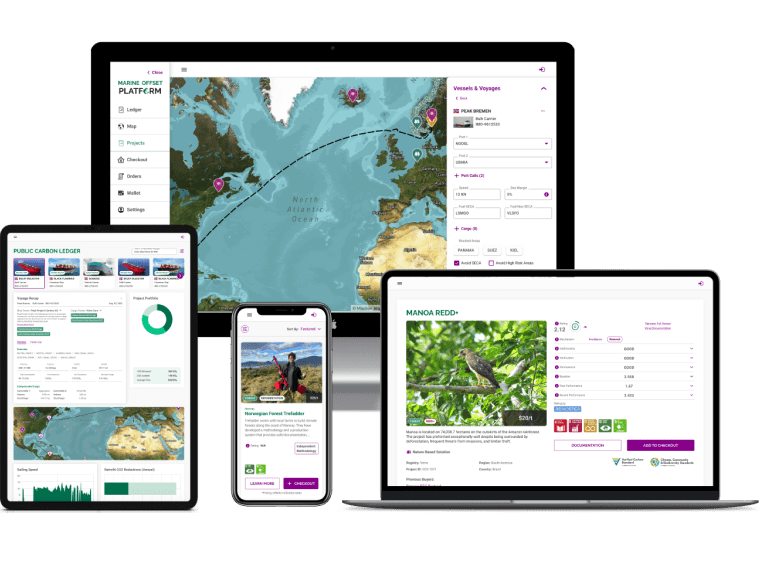 Calculate emissions easily
Intuitive UI and no-to-low data entry
Effortless emission predictions and historical outcomes
Algorithms consider the vessel, cargo and operational variables
Compensate emissions effectively
Confidently select projects using objective data and expert insights
Perfectly seamless digital purchasing experience
Accessibility on-demand to our team of specialists
Demonstrate results ethically
Share with the public and gain recognition
Demonstrate how you avoid, reduce, and offset emissions
Minimize ESG risk and maximize ESG results
Why Sail Carbon Neutral?
Attract new clients
Increase customer loyalty
82% of shipping customers are willing to pay a premium for carbon-neutral shipping.
Enhance your reputation
Appeal to green capital
33% of shipowners, charterers and financiers say that ESG factors have significant or crucial influence on investment and financing decisions.
Boost neutrality and
Net Zero commitments
40% of the largest companies with Net Zero targets intend to use offsets. Only 2% rule them out.
Client Testimonials

Leif Arne Strømmen
Partner & Head of Business Development / CEO
Peak Group AS / K2 Project Forwarding
We've had great success promoting ESG-NRG to our clients, considering nearly 20% of our revenue comes from renewables. What sets ESG-NRG apart is their thorough project due diligence, which aligns with Peak Group's high standards. Plus, their integration with Dataloy's Voyage Management System will allow us to provide our clients with direct access to their voyage data and the option to compensate their emissions through the Carbon Offset Platform (MOP). We are confident in partnering with ESG-NRG for a sustainable future.

Rakesh Sharma
Head of Business
Oilmar Shipping and Chartering DMCC
Oilmar is actively building a portfolio of carbon credits. In that pursuit, the Carbon Offset Platform (MOP) provides a simple and convenient solution for end-users.
Seeing the market potential of carbon ledger, we didn't hesitate to ask Janek to purchase and hold 900tCO2 on our behalf in ESG-NRG's Carbon Wallet.
Certificates
Digital certificates commending you and your clients
Provide confirmation of carbon credit retirement to your stakeholders. Published on the public carbon ledger and delivered to you in pdf format with:

• Your company logo
• Deal enablers (if any)
• Retirement reason and serial numbers (as published on the registry)
• Hyperlink to the carbon standard organization's project page
• Hyperlink to the voyage on the public carbon ledger
• Printable version that uses less green ink available on request

Contact us for access
Drop us a message and we'll get back to you within 24h.