Three ports of Call

Calculate emissions easily
Intuitive UI and no-to-low data entry is our foundation
Effortless emission predictions and historical outcomes keeps you focused on value-creation
All bunker fuels and potential biofuel combinations are at your fingertips
Assess the full lifecycle and factor in other GHGs to transcend standard neutrality
Allocate CO2 to cargoes to separate the climate champions from the stragglers
Algorithms do the all heavy lifting and automatically consider a range of variables
Vessel specifics
Vessel type, vessel size, shipyard, engine manufacturer
Cargo parameters
Port of load, port of discharge, mass/volume, kgCO2 per mt freight
Operational aspects
Speed, SECA/non-SECA zones, ballast/laden, in port/at sea, etc.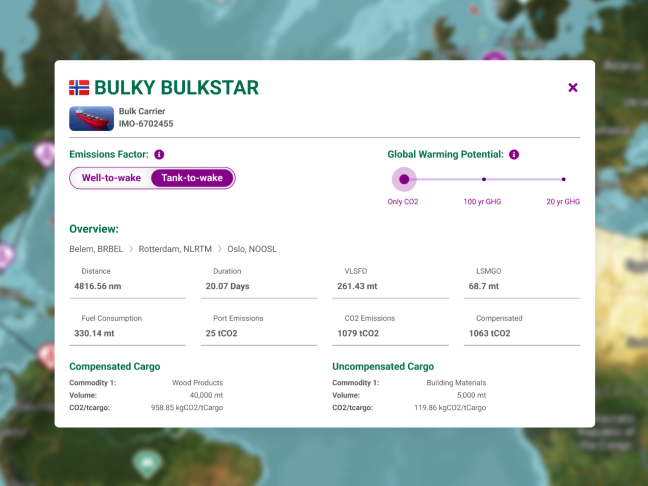 Compensate emissions effectively
Delivering quality carbon credits is our purpose
Confidently select a pre-screened project employing objective data and expert insights
Project research undertaken by independent scientists unaffiliated with the project
Video walkthroughs by experts to hear their reasoning and perspective
Quantitative metrics allows for side-by-side comparisons
Visualize the impact over time using satellite imagery
Multiply touch-points and consider your stakeholders' attributes by zeroing in on
Different types of nature-based or high-tech projects
Geographic regions and locations
Co-benefits and UN Sustainable Development Goals
Perfectly seamless digital purchasing experience
Web application designed for desktop, tablet and mobile
Buy, hold and retire credits without ever leaving the platform
Integrated order management system
Pay by invoice to facilitate A/P and voyage cost reporting
Accessibility on-demand to our team of specialists
Chat - directly within the platform
Email - ghg@esg-nrg.com
Call - we're probably awake anyway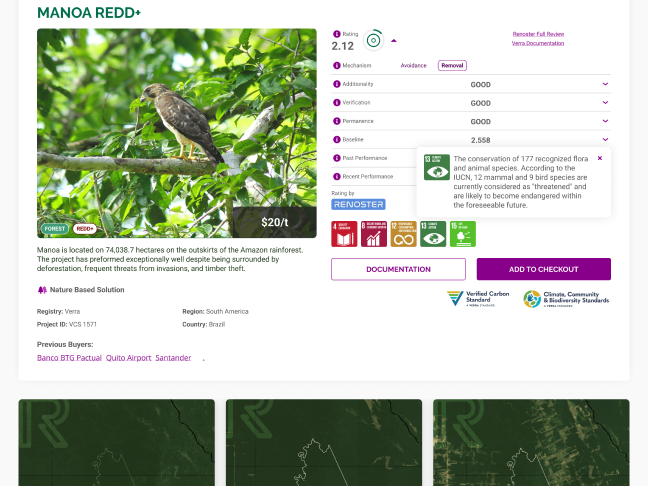 Demonstrate results ethically
Publicizing on the carbon ledger is part of our ethos
Distinguish your company from the rest by being candid with your ESG strategy
Communicate climate pledges
Connect sustainability reports
Circulate carbon certificate
Share the 3 P's with the public and set the high water mark for successful carbon neutral voyages
Portfolio
Price
Project details
The devil is not in our details. It's in the lack thereof.
ESG-NRG ensures that project nominations and company reputations remain unblemished
Stellar selections and radical honesty future-proofs your investments
Choosing third-rate credits will always cost you more in the long-run
After-all, the truth, like oil, always rises to the surface
Gain recognition for staying true to the mitigation hierarchy
avoid > reduce > offset
Show the effects of voyage optimization and responsible sailing speeds
Illustrate reduction measures enacted and installed onboard
Transparency is the key to harnessing ESG-NRG
It's not just minimizing risks to your company
It's maximizing results